Dental Hygienist London
Our team of Dental Hygienists equipped with state-of-the-art facilities offer you a flawless patient journey through all your oral hygiene needs. 
Dental Hygienist London
Since we started back in 2004, Mouth Dental has been a beacon of excellence for people seeking the best in oral health care. We always provide a flawless and complete patient journey backed by our experienced consultants and specialists and dental hygienists who are at the top of their profession. We provide our patients with an entire oral care solution under one roof strengthened by our cutting-edge technological facilities. Our multi-clinic setting in London serves over 9000 patients who regain the confidence of their restored beautiful smiles.
Book your smile makeover today
Who is a dental hygienist?
A dental hygienist is your oral hygiene care partner diagnosing and treating oral health issues. From plaque and tartar removal, tooth decay and bleeding gums are just a few of the dental hygiene treatments your dental hygienist can do for you. Many people are still unaware of the benefits of consulting a dental hygienist which is slowly changing as more and more people realise they do not need to suffer and can instead consult a dental hygienist in London and prevent gum disease and other oral issues with ease.
What areas do dental hygienists specialize in?
Also known sometimes as an oral hygienists these licensed dental professionals whose primary role is to examine for signs of oral disease, teeth cleaning and advise on the best steps to follow to avoid bad breath, tooth decay and other such common oral ailments. Dental hygienists provide regular overall therapeutic and preventive care for complete teeth and gum health, also screening for both minor and major dental problems and providing patients with sustained care. They sometimes assist with more complicated procedures including orthodontics and dental surgery. A dental hygienist's treatment is about continuous care and maintenance for a lasting healthy and beautiful smile.
What to expect at an appointment with a dental hygienist?
Before the examination it is important that you discuss your medical and dental history with the dental hygienist, so they are fully aware of what to expect and gain an idea what to look for during the examination. Your dental hygienist will examine your teeth and gyms for irregularities, bleeding, gum receding or early signs of gum disease.
During the examination they will also in most cases check the head and neck for signs of oral cancer. Low-dose x-rays are sometimes used to ascertain among other things, bone loss, tumours, abscesses and cysts and problems inside the teeth or under the gum line. If they do find a problem that requires specialist attention they will refer you to the appropriate specialist such as a periodontist.
If there are no issues then your hygienist will work to remove stains, scale and polish your teeth and if necessary recommend a fluoride treatment to fight off decay and decrease sensitivity. There after you will be advised on a treatment plan for your ongoing oral health care process.
How do you find a reputed dental hygienist?
It is not difficult to find a reputed dental hygienist these days thanks to online resources. Established and reliable oral care clinics will carry a portfolio of their affiliated specialists and dental hygienists along with their qualifications and experience.
Book your free virtual consultation
Begin your personalised smile transformation at Mouth Dental.
Book your free consultation with us now and let's discuss treatment options to help you get that perfect smile!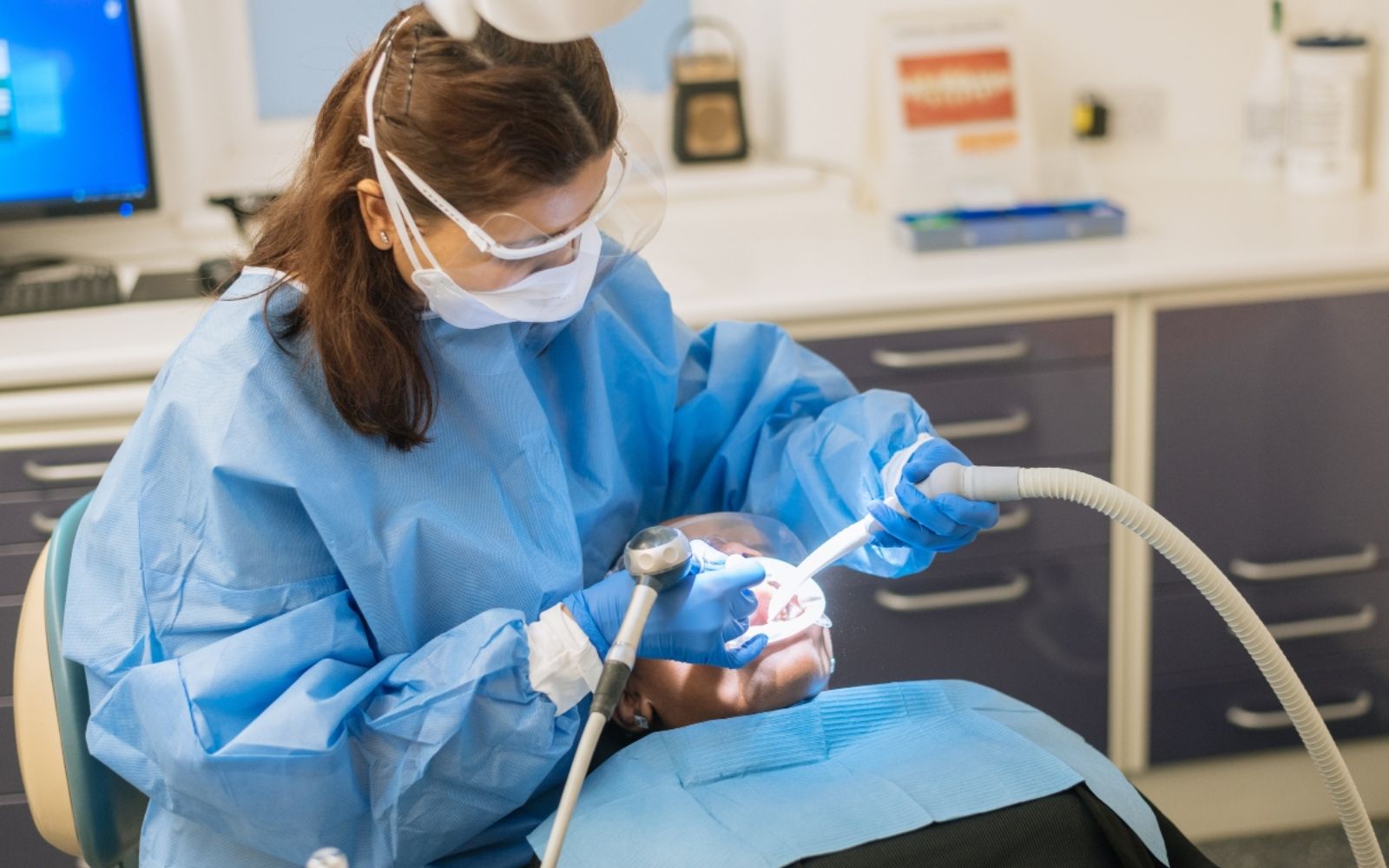 Dental hygienists at Mouth Dental
Mouth Dental enjoys its position today as premier dental healthcare providers thanks to the team of professional, experienced and dedicated consultants, specialists and dental hygienists. Backed by our state of the art facilities they are able to provide our patients with the one of the best care systems available in the industry. Our patients enjoy the best care from the moment they step into one of our clinics. You can also check with us regarding our payment schemes so that you too can benefit from the top quality dental care we provide.
Frequently asked questions
What are the treatments carried out by a dental hygienist?
Dental hygienists are your first step in obtaining complete oral wellness as they provide preventive care to minimise the risk of oral complications such as plaque build-up, staining, bad breath and gum disease. They conduct the initial patient screening and remove plaque etc for cleaner teeth. They also provide advice on oral health and preventive care while also determining if a patient requires specialist treatment to remedy a dental problem.
Once a patient undergoes specialist treatment the dental hygienist will three months on, evaluate the status with regular check-ups. They will then determine if follow up treatments are required.
Stain removals
Your dental hygienist will achieve this by polishing the top most layer of the tooth enamel to restore your stained teeth to, as near as possible, their natural colour. Specialized equipment is used to achieve this that helps remove tartar and smoothen the tooth surface. You will be advised on the best way to maintain your teeth through care and avoidance of certain food etc. You may also be recommended a fluoride treatment plan.
Cleaning sensitive teeth
Inform your dental hygienist if you have sensitive teeth so that they can take the necessary steps to be gentle while cleaning your teeth. Also note that teeth can feel sensitive after a cleaning which is normal and temporary. However, if it does continue longer than a few weeks you should let your dental hygienist know so that they can help you take remedial action if necessary. Remember, cleaning teeth is an easy and effective way to maintain great oral health and prevent cavities and decay. It also helps prevent bad breath or halitosis which is caused by bad oral hygiene. Having your teeth cleaned thoroughly will help remove troublesome bacteria which is crucial to preventing bad breath.
Cost Breakdown
The dental hygienists at Mouth Dental are dedicated to providing our patients with top-quality care from the moment they decide to go on their oral healthcare journey with us. They provide you with a personalized preventive healthcare program that will help you maintain your natural teeth in good health.
A half hour patient assessment together with a scale and polish can cost upwards of £65
A one hour assessment, scale and polish, together with dietary advice and a personalised treatment plan can cost upwards of £90
A standard hygiene maintenance for those with healthy gums and good oral health can cost upwards of £65
Advance hygiene maintenance for those who need a little extra care will cost upwards of £90